Social media marketing is more important for startups now than ever before and creating the right strategy can make or break your ability to succeed with your startup. With social media network sizes in the billions of users, we have a great opportunity to capture the attention of consumers, businesses, startups, investors, brokers, and influencers. That's why this post shares 14 proven startup social media marketing strategies that you can use on nearly any social media network.
In 2018, a study by Infusionsoft found that 71% of businesses are doing social media marketing to acquire new customers. So if you're not doing social media marketing for your business, then you're leaving money on the table.
That's why I went in-depth into sharing proven startup marketing strategies via social media marketing which work across most of the major social media platforms like Facebook, LinkedIn, Twitter, Google+, and Instagram. They'll not only increase your social media presence, but create an inbound marketing strategy that will bring you more traffic, leads, and sales.
If you want to learn how to market your startup, you implement these 14 social media marketing strategies and you stick with them, then I guarantee you that you'll grow quite nicely.
Don't miss #14 – I saved the best for last!
1) Develop a Tribe for Your Startup by Building Trust With Your Target Audience
In order to gain trust, you are going to have to be consistent with posting on social media with content that's helpful to your target audience. By doing this, you'll start to be recognized as an expert in your niche.
Consistency means posting daily. Don't give up if you don't see immediate results in the beginning! Consistency is the key to your success.
Small efforts by posting daily = big wins over the long-term because social media has a compounding effect like interest does with money.
Building trust is really important because when you're selling your startup's product or service as a solution to a problem of theirs, they want to know and trust that you know what you're doing.
When you post, you'll want to only post in and places where they gather because you don't want to market to the wrong people.
Does that make sense to you?
Give them content from trusted sources and combine your content in the mix.
Once you consistently post both curated and original content, you'll start to attract people who become devoted followers of your startup. You'll see more info about this in the next section regarding content ratios of original and curated content.
And you know what?
They'll start to like, comment, and/or share the content you post!
Then, you can reply back to people who engage with you, thank them if they share your content or give you compliments, and engage in conversations with them.
It will make you and your startup look human (that's a good thing) and you'll keep them as followers who will engage with you on social media.
This is when you start developing a tribe of followers.
If you can build a relationship with these individuals who follow your startup and engage with you, then a healthy relationship with them could mean a sale for your startup because they'll trust you.  However, remember that you want to be genuine through your relationship and not be a shark trying to shove your product down their throat.
Just talk to them like you would talk to a friend, except you can talk about your businesses and whatnot instead of TV, movies, or whatever.
This is when you start developing friendships that become a tribe of followers. And eventually, if you're not already an influencer, these efforts will make you an influencer in your industry.
Important Key Performance Indicators: Likes or favorites, comments, retweets, shares, and clicks on your links.
2) Stick to a Content Ratio for Your Startup Marketing
Adhere to either a 4:1 content ratio (80% non-promotional/20% promotional) or a 30/60/10 ratio (30% your content/60% curated/10% promotional) for your startup marketing on social media.
Why is this important?
It's important because it mixes things up so you're not doing hard sells all the time and not just promoting yourself.
It allows you to provide value to your audience with types of content they'd be interested in.
To help you get a better picture of what to share, let's think of the different types of content you can share.
[panel title="Types of Content to Share on Social Media" background_color="#32a1f0″ text_color="#ffffff"]
Videos
Podcast episodes or podcasts in general
How-to guides
Posts
Checklists
Templates
Lists
Infographics
Quotes
Stories
Memes
Etc.
[/panel]
By sharing a variety of content, you keep things fresh and your content marketing strategy doesn't get stale easily. That's why it helps by having a ratio.
If you have all original content to share, that's amazing. Go you!
But if you don't have all original content to share, then that's okay too.
You can create content pretty easily, especially if it's video and you can become comfortable in front of a camera or you are already. They don't have to be long videos — just a few minutes talking about a topic and why it's so important. Video would be a great boost for your startup marketing strategy.
You can find content from a number of different places which will be mentioned later in this post, so keep on reading!
Important Key Performance Indicators: Likes or favorites, comments, retweets, shares, and clicks on your links.
3) Plan Ahead by Automating Your Posts
Automate your marketing with social media management services. It makes your marketing so much easier when you can schedule a bulk of your messages at once.
This allows you to focus on other parts of social media marketing that rely more on interactions with users on each platform.
Three top social media automation services are:
It offers an awesome free option that allows you to connect up to 3 social media accounts and schedule your tweets as far in advance as you like.
It's one of the best free options for a social media marketing management service out there.
The first paid option allows you to connect up to 10 social profiles, and you can even get a free 30-day trial.
You can connect up to one social profile per platform for free and allows you to schedule up to 10 posts per social profile in advance.
Their first paid option allows you to connect up to 10 social profiles, allows you to schedule up to 100 posts per social profile in advance, and more.
However, you only have access to the calendar for scheduling with the paid options.
3) Litely by Lately
Litely is a version of Lately, an all-in-one social media management tool which I happen to love (I'm also a customer) and I think it will help you with your startup's marketing strategy.
This great social media management tool allows you to publish to multiple channels, has an automatic social post generator which is absolutely kickass, a bulk scheduler for scheduling your startup's social media posts, basic analytics, and a file manager.
Using their autogenerator, just one of my blog posts gave me 100 posts that I could post on four different channels. While they need some editing after being generated, it still saves me a ton of time and can bring me a better ROI than making my own posts.
It starts at $47/mo, which is very fair considering all the features you get and when you factor in higher costs from competitors. I have a bigger plan, though, for more features.
They also have two other plans with even more features. Check them out!
Important Key Performance Indicators: Likes or favorites, comments, retweets, shares, and clicks on your links.
Most important KPI: Link clicks
4) Create a Content Calendar to Make and Market Content on Social Media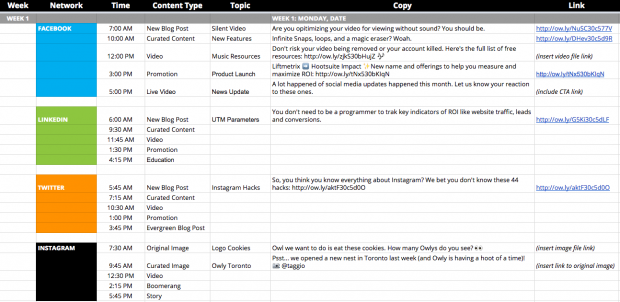 Plan the content you'll be creating 1 week, 2 weeks, or even a month ahead.
Hootsuite suggests you create the spreadsheet to have columns for the: week, network, time, content type, topic, copy, and link.
The more you plan ahead, the easier it will be to create new content on a consistent basis.
This will improve your reach and efficiency ten-fold.
You could do this effectively either on a spreadsheet or through a digital calendar.
But what content are you going to put in your calendar? See below.
4 Ways to Find Content to Post in Your Social Media Calendar
1) Twitter
If you're on Twitter and you're active on it, then you're in luck.
If you're not, then you should sign up because it's awesome and then you can use the tactics described below to find content.
There are free ways to download the records of your tweets, likes, retweets, or even tweets from someone else's account.
What's great about this is that you can see which tweets have had the best engagement, what the title of the content shared was, and of course, the link to the content itself.
This will give you a MASSIVE LIBRARY OF CONTENT.
You can literally mimic some of the best power users in the world by reverse engineering their tweets and by using one of the following services, so long as the export service allows you to get other people's records.
The service I've been using to obtain records of my tweets is http://tweetbook.in.  Below are other services to help you do this:
http://www.tweetbrander.com/how-to-download-all-of-your-tweets-on-twitter/
2) Find Top-Shared Content Through BuzzSumo
Buzzsumo is an excellent tool for your startup marketing. It's a website which aggregates the top shared content across the major social media platforms and shows you how many shares each post was shared for each network. There are advanced filters, you can use and quite a few other large aspects of their platform.
You can have a free taste of what it can do without paying by seeing only the first page of your search results, but the ability to view any page after the first requires a paid subscription.
The paid subscription starts out at $99/month, or if you buy a whole year at a clip at $948, the monthly price is discounted by 20%.
Here's how to find and track influencers on BuzzSumo:
Right Relevance is a mostly free web application that shows you a dashboard of news streams of relevant content based on topics that you choose which are shared on social media by the accounts you follow.
It shows you your social influence based on the topics, the influence by a specific location such as NYC, London, or San Francisco by your followers and who you follow.
You can share the content straight from the application, load it into Buffer (only Buffer right now), or save the articles/posts for reading or sharing later.
One of the excellent aspects of Right Relevance is that you are able to engage with your followers and the people you follow even more than what you're capable of doing on Twitter.  The more engaged you are with them, then the more engaged they will be with you.
Engagement is an important aspect of inbound startup marketing.
However, this application isn't limited to just Twitter, but also reaches across Facebook and LinkedIn.
What's great about that is you can post on all three networks simultaneously as shown in the picture below.
But, you cannot schedule those posts straight from Right Relevance. Only Buffer.
Right Relevance has become one of my new favorite content discovery tools because of how granular you can get topically. And I like it because you can schedule that granularly relevant content from people you follow to further engage with them.
4)  Share Your Own Content as Part of Your Startup Marketing Strategy
If you already have your own content, then I hope you're marketing it!
It won't do anybody any good just sitting on your site or YouTube channel if it's not being consumed.
Show it to the world!
Just remember to share your content using the following formula in this order:  The content title, then the link, then who it's from (brand and/or author), then relevant hashtags.
And depending on character limits on the platform, you can also add a small description of why you wrote that content before you even post the content title. I've tried this tactic and it works very well.
5) Stream Live Videos on Social Media or Create Videos and Post Them
Implementing video is going to be a huge boost to your startup marketing strategy.
Include a short intro about the video to get their attention. Then get into the subject matter. Make it short and sweet with some helpful information on the topic.
Make sure you ask your viewers to like your video, subscribe to your YouTube channel, and leave a comment if they liked it or thought it was helpful.
If the video is about your product or service, then tell them how your product is going to make your customer's lives better. Show your passion and enthusiasm for your product/service while doing this and you can even add a touch of comedy in it if it's appropriate.
[info]According to RenderFX, after visitors watch a video of your product/service, they're 64% more likely to buy it online.  Additionally, "when you use video on social, your audience is 10x more likely to engage with it."[/info]
If you'd like to learn more about how to have an amazing video marketing strategy, I recommend you check out this resource by Lyfe Marketing called The Ultimate Guide to Video Content Marketing for Increased Engagement.
Most Important Key Performance Indicators: Video plays and landing page visits.
Important Key Performance Indicators: Likes or favorites, comments, retweets, shares.
6) Find & Share Helpful Videos
Videos get the best engagement on social media as long as the videos are relevant to your audience. By engagement, I mean likes, comments, and shares.
YouTube, Vimeo, and Inc 500 allow you to share videos from their platform to other social media platforms.
Video also helps you sell your startup's product or service better than anything else. However, these types of videos are direct sales-based.
Try curating a bunch of videos first and adding them into an internal list of yours with links to the videos so you don't have to go back to the video page itself to share it.
It's good to do that because when you want to share them on social media and schedule social media marketing posts, you can easily have them on-hand and quickly write your posts.
One thing that you can do to curate your list of videos is finding your favorite and most relevant YouTube channels. Then subscribe to them and go back to them to source your video content.
The other way to find them is by simply typing in your keywords into the search bar.
Important Key Performance Indicators: Likes or favorites, comments, retweets, shares.
7) Publish Motivational and Inspirational Posts
People eat these up. Motivational images are shared at 10x the rate of normal social media posts, according to Jonathan Gunson, who has over 130,000 Twitter followers and is a major Twitter influencer.
You can find quotes by simply doing Google searches. You can create your own posts by using quotes from famous people who have said profound things.  Motivational images also build up your social media profile as an influencer and make you look good.
However, you've got to use the right types of quotes for your audience because it's all about catering to the desires and needs of your target audience. This can help lead more people to visit your profile, and, in turn, your website.  It's some great social media marketing material for startups.
Tell us, does this image below motivate or inspire you?
If you need a free vector art program, check out Inkscape.  It's not super user-friendly, but it can get the job done.  If you have trouble figuring it out, check out some how-to videos on YouTube.
Since visual quotes are the best, using Canva, you can create your own quote/image combination — or with Photoshop &/or Illustrator.
Important Key Performance Indicators: Likes or favorites, comments, retweets, shares.
8) Write and Post Value-Filled Blog Posts
It's best to create evergreen content, meaning content that doesn't expire. Content that expires usually has a year or date within the name.
[panel title="When you're marketing blog posts, you'll want to include:" background_color="#32a1f0″ text_color="#ffffff"]
Perhaps a small description or a few thoughts about why you wrote it. They add a human touch to your marketing.

The title of the post

The link right after the title

Hashtags of the relevant categories it belongs to
[/panel]
However, you can also write content that will not link to anywhere outside of the social media platform.
This is a tactic that will get your post more impressions on Facebook because the algorithms like it when you're not linking to outside content.
And, this allows you to provide value straight from the social media marketing platform without people having to leave it.
On Twitter, you can write small lists which are helpful.  But on Facebook and LinkedIn you can write significant amounts of content which will be shared with your network in an instant.
Do you want to learn how to create great content? Check out this post I wrote called How Startups Can Drive Traffic with Content Marketing.
Most Important Key Performance Indicators: Link clicks
Important Key Performance Indicators: Likes or favorites, comments, retweets, shares.
9) Share Podcasts From Industry-Leaders
Sharing podcast episodes which are relevant to your niche is a great way to add variety into your startup marketing strategy, especially if you're creating your own podcasts.
Podcasts are all the craze right now. People love listening to them, especially during commutes and exercise.
To find podcasts that you might like, just type into Google your industry + podcast, and you'll probably find a list of the best podcasts by industry leaders.
Share podcasts and episodes in the same way as discussed in the previous tip (#8).
These will help to cement yourself as someone who's an industry insider.
In addition, sharing them will help you become a greater influence within the industry.
Important Key Performance Indicators: Likes or favorites, comments, retweets, shares.
10) Create Blog Post Snippets and Share
If you are looking to build up your social media following quickly, and don't have your own content, then find some compelling content from a third party that will resonate with your target audience.
Then copy and paste the first paragraph or two onto the blog section of a new post on your website.
Then include a link to the original post after those few paragraphs you copied which should open the original post in a new window. This will bring traffic to your website, to the source website, and build up your social influence simultaneously.  The blog post snippet tactic described here is utilized by GrowthHackers.com by Sean Ellis, and it's responsible for most of its traffic because it acts as a referrer.
Just remember that your goal will be to get them to stay on your website or subscribe to your email list so that you can re-capture their attention and try to get them to buy from you.
Most Important Key Performance Indicators: Link clicks, likes or favorites, comments, retweets, shares.
11) Create and Share a Free E-Book
People love free e-books! Share a free e-book of yours on social media that's relevant and helpful to your target audience.
Free e-books are a form of a lead-magnet because they draw in leads and thus, is a great startup marketing strategy. The power of sales is in your email list more than anywhere else.
You set up this lead magnet on your website by making a new page for it or by using a popup lead generation tool. Once you make the page, describe the e-book and what the readers will get from it. From there, you can take the link from that page and market it on social media as an e-book for people to download.
Doing so will increase your authority and bring you more email subscribers as long as it's an authoritative book.
[panel title="If you are going to write an e-book or any blog post for that matter, make sure you follow the following process to write it:" background_color="#32a1f0″ text_color="#ffffff"]
Pick a topic you know well
Research it to get data to support your content
Create an outline using headings and subheadings
Write your draft in MS Word or Google Docs
Edit your draft
Add images to supplement the text
Once it's completed, save it as a PDF from GDocs or Word
[/panel]
You can also copy and paste an entire previously written post into Google Docs and save it as a PDF and remarket it on social media as an e-book…as long as it's authoritative.
And if you want to take it the next step further, you can do the same thing as described above and use it as a content upgrade so when people visit your post they can read it but also have the option of downloading that whole post as an e-book.
Once it's ready to put out there, your post on social media might look something like this:
E-book name goes here [Free E-Book] by your name here via your company name here – your link goes here #IndustryHashtag1 #IndustryHashtag2 #IndustryHashtag3 #IndustryHashtag4
Make a call to action to download it for free from your website when users opt-in with their email address.  You can even pin it to your profile on Twitter, on Facebook, on your Facebook page, your Facebook Group, your LinkedIn profile, etc.
12) Recycle Your Existing Blog Posts to Share
Recycle your existing blog posts by turning them into videos, infographics, or podcasts.  Repurposing content and marketing it is a killer tactic to breath new life into your social media marketing efforts.
When you do, you'll have fresh content to share on social media and everyone's on the hunt for fresh content. Moreover, having content in different formats gives you more content to market and a wider audience of people that will see it.
Below, you can learn more about repurposing your content into video.
13) Get Found on Social Media by Using Hashtags
This may seem simple, but hashtags increase the number of impressions you get on your social media posts because it categorizes any post that uses a hashtag to come up when searched for.
They are a great way to ensure your material is being shown to relevant audiences and a lot of companies forget to use them!
We use #StartupDevKit on a lot of our social media posts so that anyone who punches that hashtag in can see almost everything we've posted.
LinkedIn has a limit of 3 hashtags, but the rest allow for pretty much as many as you want, except for Twitter because there's a character limit of 280 characters including spaces.
Use relevant hashtags to the topic you're posting about. Witty hashtags only get seen by those who are already viewing the post.
Nobody searches for witty hashtags because they're unique hashtags, so those posts with witty hashtags will, by default, get fewer impressions (views) unless it gets them really excited.
I suggest using one hashtag with your startup's name and you can include that in most or all of your startup's posts. The rest of your hashtags should be industry and categorically related.
14) Our CLMMPFS Social Media Marketing Formula
To build the most solid presence on social media for your startup, you need to cover the seven main bases below.
I created the CLMMPFS social media marketing formula, which is an acronym and a 360-degree strategy for social media marketing. It contains every major component of social media marketing and if you can perform all 7 of these tactics, then you're going to be in great shape to get traffic and engagement.
[panel title="The CLMMPFS Social Media Marketing Formula Broken Down" background_color="#32a1f0″ text_color="#ffffff"]
1) Commenting – Whether you're giving the poster accolades, writing a unique insight you had or responding to someone else's content
2) Liking – It's so simple, yet so engaging. Do it!
3) Mentioning – Mention others in posts and in comments
4) Messaging – Yes, you can actually talk to people
5) Posting – You could post just text, text with image, just image, video, video + text, video + link, link to article/website/podcast/whatever with text. Just make sure it's something that adds value to your audience.
6) Following/Friending – A great way to stay in touch and network with each other.
7) Sharing – Share other people's content. They love you when you do that! After all, sharing is caring 🙂
[/panel]
Employing this social media marketing strategy takes a lot of work but will be worth it once you see how dominant you've become on the social media channel you use it on.
Nothing in life that's worth it comes easy, so keep working on what you want to achieve and do your best!
Conclusion
These social media marketing strategies and tactics work on any platform and you can use a social media marketing post scheduler to post on multiple social media marketing channels at the same time. This enables you to get a broader reach.
However, sometimes, all a business needs is to do well on just one marketing channel.  Rock one channel as best as you can. Then integrate other marketing channels into the mix after you've dominated it.
If you're not just starting out, then now you have some other methods to help optimize your reach to continue building your brand.
What tactics or strategies have you found to be particularly effective for you? Was it something from this post or not?
[mc4wp_form id="4960″]